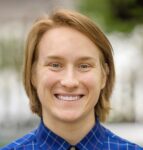 Bryce Hurd, Licensed Agent in Home and Auto Insurance
Bryce Hurd is a Home and auto Wisconsin licensed insurance agent. Bryce is known for his exceptional customer service and his commitment to building strong relationships with his clients. He understands that insurance can be a confusing and daunting topic for many people, and he is dedicated to making the process as simple and stress-free as possible for his clients.
Among his many and varied interests, he enjoys learning about and discussing technology, business and money management, marketing, and music.
Bryce grew up and continues to live in Eau Claire Wisconsin, received and awarded the prestigious and highest scouting level of President's Eagle Scout. This is where he learned teamwork, leadership, and most importantly, the value of mutually good and long-lasting relationships. These lessons learned greatly influenced and contributed to his approach and means to serving others including and especially when providing insurance guidance to others in his community.
With his professionalism, expertise, and dedication, Bryce is a valuable asset to our agency and to his clients. If you're looking for someone who has your best interest in mind, valuing you and your family's future as front and center contact him today to learn more about how he can help protect you and your family's assets for the long term.