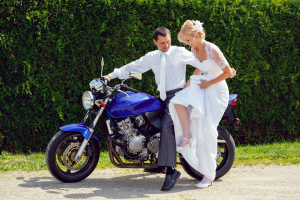 We offer motorcycle insurance solutions regardless if you only drive a bike, or rarely take your iron horse on the road.
Now that you've decided to buy that beautiful chrome-plated piece of two-wheeled glory, it's time to ponder your insurance needs. First of all, you will not be able to add that bad-boy to your auto insurance policy. Auto insurance is for automobiles or trailers only. You are going to need a separate policy for that new shiny bike.
Motorcycle Insurance is similar to auto insurance in that it offers bodily injury liability, property damage liability, uninsured motorist, comprehensive and collision. Always purchase more than the minimum limits to avoid paying out of pocket in the event of an at-fault accident. The following coverages are very important to protect you and your bike:
Passenger Liability
If you ever plan on having a rider with you, this coverage is very important since it pays in the event you have an at-fault accident and your passenger is injured or killed.
Medical Payments
Medical Payments coverage is like an accident plan that follows you on any bike you are riding. This important coverage will pay for your injuries no matter who is at-fault. Even if you have medical insurance, you are going to need Medical Payments to fill the coverage gaps due to deductibles and copays in your medical insurance. Also, since liability does not have to be established, the policy will pay very quickly. Buy as much of this coverage as you can afford.
Additional Equipment
Your comprehensive and collision only pays for the equipment that is installed by the manufacturer. If your bike has additional equipment such as saddlebags, chrome crash bars or a windshield, this coverage will pay for damages.
Bike Style
The style of motorcycle you are insuring will have a tremendous impact on the premium charged by the insurance company. Traditional street bikes or touring bikes command a much lower premium than "Ninja" style bikes that are designed to reach very high speeds very quickly. If you have a couple of speeding tickets and purchase a "Ninja" style motorcycle, you can expect to pay quite a bit of premium to insure it.
Motorcycles are a less expensive for of transportation and a lot of fun to ride in good weather. If you will not be garaging your bike spend some extra money and install a "LoJack" system so if the bike is stolen, the police can locate it quickly. Protect yourself and protect your new baby.