Imagine picking your kids up from school without leaving the house? That may start happening as early as next year, and without having to call your spouse to do it for you.
With over 14 million registrations, California is the number one state in automobiles (as of 2015), and in 2018, the state is expected to allow cars on the road without an active driver.
With Google, Uber, Tesla, and many other tech companies located in California, it's anything but a surprise that by this time next year we could pass or be passed by cars without drivers. I can just imagine the fun on Halloween people could have.
According to the California Department of Motor Vehicles, "Autonomous mode is the status of vehicle operation where technology that is a combination of hardware and software, remote and/or on-board, performs the dynamic driving task, with or without a natural person actively supervising the autonomous technology's performance of the dynamic driving task. An Autonomous vehicle is operating or driving in autonomous mode when it is operated or driven with the autonomous technology engaged."
In other words, a person doesn't need to maintain control or be at the ready for control (as is required with the 2018 Cadillac "Super Cruise") for a vehicle to transverse down the road. According to The Verge, There are 42 companies testing over 280 autonomous vehicles that are licensed with the DMV. California licenses about 1,000 safety drivers for testing autonomous vehicles currently, albeit after the new rules are in effect, the cars will break free from their chaperones and live life to its fullest, or at least until more gas is required. From that perspective, cars will become much like kids, coming home when they need gas money or laundry. Instead of laundry, it appears it will be a car wash instead.
The new rules are a significant departure from the regulatory stance less than two years ago when the DMV said a driver would remain. The key requirement is the DMV is requiring the vehicles be programmed in such a way that they obey the law, and the vehicles are compliant with federal rules governing safety. That appears to be fully within the rehlm of reasonableness. If the cars can't obey the law, they shouldn't be on the road, much like many drivers. If the programing keeps the cars within the speed limit near my home, that will already be an improvement over the neighbor's kid and his ad nauseam desire to turn the culd de sac we live on into his personal autobahn.
Meanwhile in Washington, our elected leaders are considering and debating rules and laws regarding autonomous vehicles also. The Safely Ensuring Lives Future Deployment and Research In Vehicle Evolution Act, or (caugh) "Self Drive" Act didn't hit a red light, or amber for that matter and took the express lane through the House of Representatives and is now waiting for action in the Senate. One notable attribute in the bill as proposed is it will usurp state law and build a national framework for automakers to follow. Currently, automakers have to request waivers or exemptions to the National Highway and Traffic Safety Administrations (NHTSA) federal motor vehicle safety standards, and the agency only grants 2,500 in any given year. The Self Drive Act would increase that cap to 25,000 per year initially, and expand it up to 100,000 annually in three years.
As expected, you can't have government regulation without lobbyists, and the Self Driving Coalition for Safer Streets, a lobbying confederacy, a membership that includes the expected usual suspects Ford, Lyft, Google, Waymo, and Volvo. Also, and perhaps not surprising, members of the lobby group including MADD and National Federation of the blind.
Don't expect to buy a self-driving car anytime soon without opening your wallet wider than most right now will care to do. Even when I started writing about self-driving cars four years ago in an piece titled "Leave the Driving to Us Robots", the estimated cost for adding the technology was about $100,000 on top of the vehicle cost.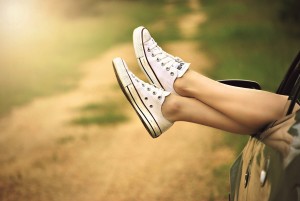 Also, don't expect you'll be able to hang your feet out the window while you're car is driving, or maybe on second thought, maybe you will?
What you're more likely to see first is taxi services, along with the Ubers and Lyfts replacing drivers with self-driving cars. In areas where wages and fares are the highest, we'll likely see the first adaptation. As someone who drove a taxi back in the 1980s, it will be sad to see that occupation go, albeit for consumers, it's a huge win. The cost and ease of transportation should improve as adaptation spreads. A self driving car isn't as likely to hold your luggage hostage unless you give enough of a "tip" in Hong Kong as happened to me when going to the airport.
Just as I wrote in the linked article, I really believe it's in the world of commercial transportation that we'll see the quickest and most impactful change. Yes, taxis are commercial transportation, albeit I'm talking about trucks, as in 18 wheel massive 53 foot trailer pulling beasts of the road. Truck drivers have mountains of regulations to comply with, including limits of how long they can drive each day that computers won't have to contend with. Even if the self-driving truck costs $100,000, that can almost be recouped within one year because the truck only needs to stop for fuel and to load/unload. It's the same as two drivers, only better. No time off to see the kids or family back home, and other than updates, no vacation time.
Keep an eye out, and as I tell my wife on a regular basis, the best is yet to come.
Comments
comments