by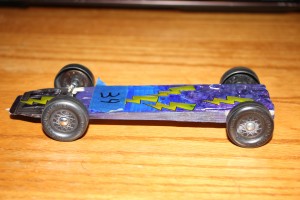 Number 34, that's the number we received when we checked in.
I didn't think it would be that fast, and in fact, I was expecting it to display a poor performance overall. No fenders, the axles didn't see sandpaper and the wheel bore prep lasted a total of about 10 minutes for ALL four wheels. And by all four, I mean three really because the non dominant front wheel received about as much attention as an unwanted step-child. What can I say, Michael is seven, and his attention span with building the car was measured in seconds, not minutes or hours.
Some of Michael's lack of attention probably made it much better looking. In fact, despite its appearence, it's by far the "best looking" car I think this house has produced. The reason is simple, because Michael didn't care much (in terms of allocating time), I didn't allocate as much time and so the body was relatively basic (by design). My wife Lori said my learning curve has spiked and that's why a car that didn't get as much attention was actually pretty nice. I think (humbly) that's she's correct. After building so many cars, I have to some degree learned that sometimes KISS is an effective strategy, especially when skillsets and tools don't exactly match up with all the theory developed in my head.
The specs and key attributes include:
Tungsten weights (other than a thin gauge strip on the bottom added at the weigh-in.
Reduction in wheel mass (albeit the non FDW wasn't nearly as light as it could/should have been)
COM is about 3/4
Only the non FDW has wind protection via insulating filler. I wanted to add washers for wind protection, but due to weight issues, we didn't have the ability.
3 degrees on the back wheels
FDW is about an 1/8 inward
Most of the center of the car was hallowed out and covered with a sticker.
Sanded the front too much. Added a credit card in the front via superglue to add back the length lost.
With the COM so far back, as you can imagine, it fish tailed down the track, albeit the Pack 88 track has a relatively short flat surface, so it wasn't enough to cause a problem in the sense that he won all or most of the heats he was in. This contrary to what you may imagine, wasn't the intended or expected result. I thought he would get his butt kicked, and then get motivated to "build a better car". Now I fear he will take it easy and lose in Feb when trophies are to be won because I'm sure others will step up.
In building, we went through two bodies, five wheels, and five axles. That's an all-time low for this family. I think the last race for my oldest son William we went though about five or six kits to get to his final car. It was a showpiece of over-engineering and trying to do more than what we were able to. Not through lack of effort on William as he put hours into it. But instead of building a fast car within the time limits (and waiting until the last possible second) we (his dad) tried to exploit every possible thing one could think of and it wasn't only not super fast, it was barely competitive despite the fact we could have had a faster car had we subscribed to the KISS method.
Robert Weinstein is a husband, dad, stock market junkie, real estate broker, and of course…Insurance agent. Interests include my family, economics, marketing, technology, real estate, finance/investing, history, and Asia.
Robert's insurance expertise includes having the designation of Certified in Long-Term Care (CLTC) and assist in asset protection for families with members entering retirement.
Robert is also an accomplished syndicated writer whose work can be found in TheStreet, MainStreet, CNBC, Forbes, Yahoo Finance, Seeking Alpha, MSN Money, The Money Show, Stock Saints, Motley Fool, Fidelity, Minyanville, RealMoney Pro, and many national and international newspapers.
Comments
comments