Technology on the web has reached a point that you can find out when an airline is going to arrive late before the airline gives notice. Several websites and apps for the iPhone and Android platforms will let you know when you have to hurry to get to the airport, and when the traffic jab you're in doesn't matter because the flight is running even more late.
I've looked at many sites, but some are better than others. FlightAware.com is one of my favorites and is incredibly useful. For example, by looking at FlightAware's view of my nearest international airport, Minneapolis-St. Paul MSP (or KMSP), I can actually see what airline and flight a jet is that is flying over my house in Wisconsin. I can even get a full screen view when I click on the map. I can also click on individual jets and find out what airline, the flight number, expected arrival time, and if they've been diverted. I find it interesting to watch even when I don't know someone is flying.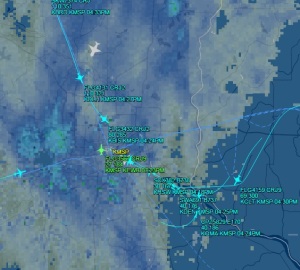 Having an airline tracking phone app is not only beneficial to follow your loved ones or business associates, a phone app can help the road warrior plan his or her day. Rob Griffiths' article on the best flight tracking apps gave me the idea to write this post. He tried a several apps and made a list of the ones he believes are best for any given situation. He went into detail on why each flight tracking phone app is best suited for any given situation, so I won't repeat it here. I will post which ones I like the best though for travelers and those making the trip to the airport to pickup or drop off.
FlightView (both paid and free versions are available) is great for the road warrior. The free version has ads, so you can try that out first, and if you become annoyed with ads, for only a dollar you can receive an ad free experience. To be fair, this one will work great for the driver going to or picking up at the airport.
Another app I like is FlightStats. it's also free and you can upgrade for $2 to remove the ads. The graphics of the maps makes this one really interesting. iFly Pro uses GPS to let you know where in the airport terminal you are, and where you want to go to find an ATM and other desirable destinations before departing.
Regardless of the type of flight tracking software you use, the cost is free or nearly free and they all offer productivity that I wish was available when I was flying 100K miles a year.