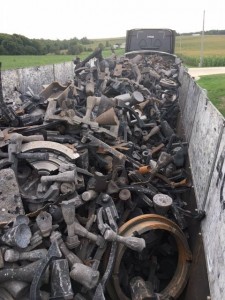 Carrier receives over $20,000 in citations, plus 12 out of service violations, along with numerous warnings including overweight axles. That's what happens when you're accused of hauling 166,000 pounds, and you shouldn't be over 80,000 pounds.
This is according to the Pepin Country (Wisconsin) Sheriff's Office. Some of the truck tires were experiencing a weight load of over twice the amount they were rated for, and it comes as little surprise that on the way a tire blew out. And according to the report, not only did one tire fail, albeit two tires experienced a blow-out and the truck was forced to the side of the road.
Young Trucker Destroys Historic Bridge – Goes To Jail
The driver called for service, however, unfortunately for the driver and carrier, the repair service wasn't able to lift the trailer to change the tires because the weight was more than the service could provide. The next day, a second service provider attempted the same, albeit without success, and a heavy tow truck operator was contacted to lift the rear of the trailer to get the tires changed.
At that point, law enforcement was called to assess the situation and when the Pepin County Sheriff's deputy arrived, it became clear the truck was an ideal candidate for a weight check and further inspection. Sergeant Berger with the State Patrol responded to the deputy's request and using portable scales found the truck carrier grossly exceeding the maximum weight limit allowed.
The truck finally required a second and much larger 50 ton rotator tow truck to enable the lifting of the rear of the trailer and changing of tires. During the process, the Sheriff's department reports that the flexing of the trailer's frame was so extreme and dangerous, with a potential for a catastrophic failure of the trailer frame system, that extra blocking and jacks were required to support the center of the trailer while it was being lifted.
With the exception of the steering tires, all the tires were otherwise well over the legal limit and as described above, some tires were over twice the manufacturer's weight limit rating.
Furthermore, law enforcement reports the truck driver failed to place the required emergency warning devices for a stopped vehicle in the area to warn motorists to use caution as they approach the distressed and obese semi truck.
Once able to move again, the truck was provided with an escort by Pepin County's finest for about four miles and was safely offloaded. Picture and story come from Pepin's FB account.
1 Reason offers geneal liability and commercial auto insurance that includes long-haul trucking, dump trucks, cube trucks, bob-tail, non-trucking liability, and more. New DOT/MC accounts welcome.